Introducing a whole new way to do public bidding for your water utility. H2bid will soon offer a unique cloud-based service featuring the latest in e-bidding and e-sourcing techniques. The Software as a Service (SaaS) will handle all of your public bidding needs for construction projects, water utility products, consulting contracts, pipes, chemicals, etc. It will not only create significant savings for your utility, but also streamline the purchasing process - giving valuable time back to the buyer. All while improving the overall transparency of the bidding process.
If you are a vendor to the water utility market you will be able to respond to bids and reach potential new customers and markets in a highly cost effective manner.
Designed specifically to meet the stringent needs of water utilities, H2bid's e-bidding service will enable you to conduct Sealed Bids, Requests for Information, RFPs, RFQs, and Reverse Auctions with our Internet-based system. H2bid's e-bidding service makes the contracting process more efficient:
H2bid Helps You Locate Water Utility Contract
Opportunities More Efficiently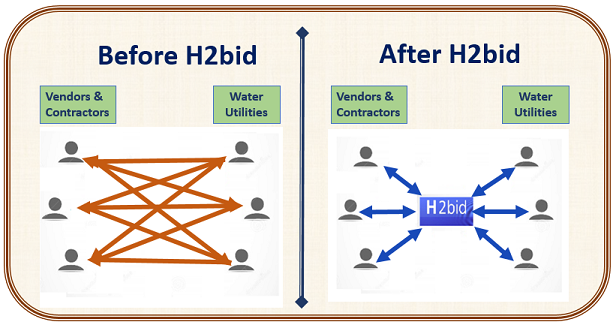 The benefits to your utility include:
Bid library to reduce the time and cost of creating new bids
Pre-bid forum to learn about solutions before writing bid specifications
Vendor rating tool where buyers share their experiences with vendors
Online collaboration tool for creating bids electronically
Access to thousands of new vendors and technology solutions through H2bid.com's exchange (database of over 30,000 water utility vendors)
Dashboards to monitor bidding activity
Immediate implementation
And perhaps best of all our system is available at no-charge to the utility
And for vendors, we offer convenient access to thousands of bid opportunities from water utilities around the world.
If you would like to receive updates and more information on H2bid's e-bidding service please complete the following contact information and we will send you updates, as they become available: